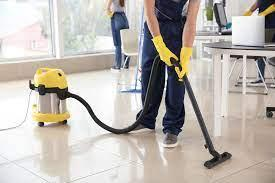 Americans mostly spend their waking hours at the workplace. Though many businesses make use of a cleaning service, the actual cleaning done is often minimal, with a quick emptying of trash and then using a vacuum. Deeper dust, dirt, pathogens and allergens remain on blinds, in carpets, and deep within the office furniture. Read the benefits of professional commercial cleaning, and why your business should invest in high-quality cleaning from us:
1.Better Employee Productivity
Your employees remain happy when the workplace is clean, fresh, and free from accumulated dirt and dust. The air is not only healthier to breathe but also sweet to smell. While many businesses recognize the importance of healthy company culture, very little thought is paid to the excessively important factor of productivity – clean, pure air.
While it is a well-known fact that polluted air entails risks for human health, many business owners do not realize the excessive impact of unhealthy air indoors. Within the walls of the organization, the air might be contaminated and is continuously circulated through the HVAC system. Research states that polluted indoor air causes a drop in productivity. It is thought that unhealthy, dirty, indoor air reduces human cognitive function.
As per a report of the EPA, the quality of indoor air is one of the topmost risks to the health of humans in the USA. Studies released by them state that indoor air often has pollutants higher than the ones found outside. Even the most well-established business may also possess a hidden indoor air quality problem, resulting in lost productivity.
Want a team of eager, bright and productive employees? Help them by making them breathe cleaner air. Our commercial cleaning services in Houston leave your office fresh and clean the air and enhance your productivity.
2.Less Chances of Spread of Disease
Whether an illness affects your delivery, sales or other area, reducing the chances of the spread of disease is necessary. Even when employees are requested to stay put at home when ill, many do not regard this request, and then move within the office spreading the virus through contact with various surfaces, which others contact. Professional, deep cleaning is a necessity for keeping your workplace as well as workforce healthier and for reducing the spread of the virus.
A thorough cleaning is critical in helping stop the spread of disease. All the areas, including training rooms, bathrooms, etc. need to be disinfected for avoiding employee illness. The CDC has recommended sanitizing areas like doorknobs, desktops, phones, etc. Our professional team can suggest the most effective cleaning protocols for helping you limit the spread of dangerous virus. Our experts ensure sanitizing your entire office.
Better Choice Cleaning-Your Partner in Cleaning
We completely understand the necessity of keeping your business absolutely clean – for safety and health purposes, and for creating a good first impression for the ones who enter your premises the first time. We take pride in providing support to many clients and businesses and aiding them to not only have a healthier work environment but also to present a good image reflecting the quality of their services and goods. Our work is fully guaranteed, and our entire team is professional, trained and dedicated to giving an excellent service — and treating your workspace with full respect.
We are ready to work for you now and give you all the benefits a truly experienced cleaning service can give.