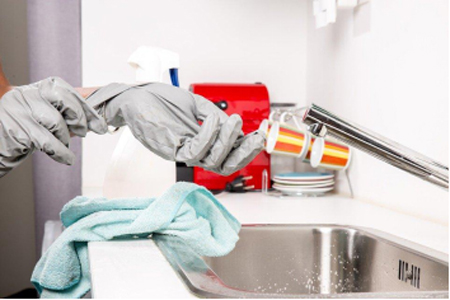 Many companies today believe in outsourcing their janitorial and cleaning department to someone better than their own team. They do not want to hire and pay someone but rather want to outsource the cleaning services. Every business operation wants to create a unique image. They need to portray a welcoming environment for employees and clients. To ensure this, they need to have a clean and fresh-looking office. So, they must find the best cleaning service in Houston, Texas.
An office that is clean and free from germs is essential for the health of the staff members and visiting guests. It ensures that nobody falls sick, and one can maintain the highest employee productivity when everyone turns to the office regularly. An office bathroom, training rooms, desk, floors and carpets need to look sparkling clean so that no employees have an issue using them. It also calls for paying attention to areas like desktops, doorknobs, faucets, and phones. They should not have any traces of germs.
The USA has a notable cleaning industry. There is no shortage of the best cleaning companies here. A modern society needs to have all comforts, and one can get enough cleaning facilities here. Calling a commercial cleaning company is popular here. Anyone can approach a cleaning service Houston, Texas, to sanitize and clean offices.
Americans prefer to spend their time at work. Businesses should ensure to provide a clean and fresh office to them. They need to ensure there is no pathogen or strain on the carpet or the office furniture. They should ensure that the air they breathe is fresh and with no allergens. Many businesses invest a lot in cleaning and maintenance services. However, companies need to understand that all cleaning companies are not equal. They differ in terms of quality and service. So, they need to choose a cleaning company carefully.
How to Search Good Cleaning Services?
When it comes to hiring a cleaning company, one needs to see if they offer the services one needs. Identify problems and issues that need immediate attention in the office and call a service that provides 24/7 hours of operation.
Review a cleaning company's experience and choose an experienced and reputed company. One can also check their previous customers and their feedback on the service.
One needs to pay attention to the skills of the employees and the tools and equipment they use. Do they have the latest types of equipment? Do they have good quality sanitizer? One needs to know about these small details and screen backgrounds of the employees, whether they have taken any training and know-how to handle the equipment.
In addition to this, choose a cleaning company with the required license and carry the needed insurance. Insurance protects employees and does not make a company liable in case of accidents, and a reputed cleaning company should have all these credentials.
Get references from friends and search for contact information about a few companies to get quotes. Find the best company that meets the budget and all the above requirements to have a safe and germ-free environment.